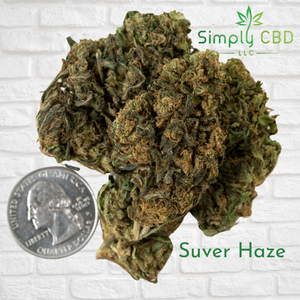 Organic CBD Flower Suver Haze Hybrid is a sativa dominant strain.   This strain shares its lineage with the Early Resin Berry and Suver #8 strain.
You will feel your shoulders loosen up and your neck relax before a wave of uplifting bliss comes over you.  This strain has a fruity tropical flavor as well as having sweet and tart undertones. 
The Suver Haze CBD flowers will contain CBD levels of 17.52%. The most dominant terpenes found in this strain include caryophyllene, farnesene, and myrcene. In addition, the terpenes and cannabinoids synergize, creating a wave of relaxation that will take away any stress, tension, or anxiety you may hold. At the same time, it may even give you a little mood boost to brighten your day. 

Organic CBD Flower Suver Haze Hybrid will create a clean and fresh smoke with every drag! In addition, the best part is that it's not too overwhelming or harsh on the throat. The flavor she leaves behind with every smoke is a combination of sweet and fresh— there's a distinctive undertone of lemongrass and pine, complemented with sweet floral and berry notes.  
Some of the most common benefits reported from customers include: 
Relief from migraines and headaches