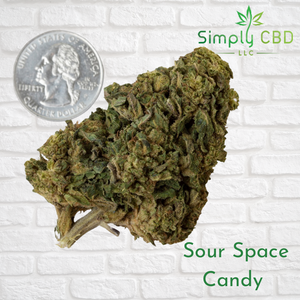 Simply CBD Organic Flower Sour Space Candy (14% CBD)
Sour Space Candy is a Sativa dominant hybrid strain.  Sour Space Candy shares its lineage with the Sour Tsunami and Early Resin Berry.  Our Sour Space Candy CBD hemp flowers have a diverse range of cannabinoids and terpenes.  For example, her dominant terpenes are limonene and pinene.  Sour Space Candy CBD bud is:
uplifting,

energizing, and

focusing
In addition, customers report that it helps relieve stress and increase focus. 
Grown in Vermont and hand trimmed to perfection. The cured nugs of our Organic CBD Flower Sour Space Candy release a delicious sweet and pungent gaseous-floral aroma that lingers around for hours.
Her flowers are medium to round in size and are often covered in sweet sap-like resinous oils which will stick to your fingers. Users will detect a sharp flavor of diesel and fruity berries complimented with subtle notes of sour lemon and pine when smoked or vaped.