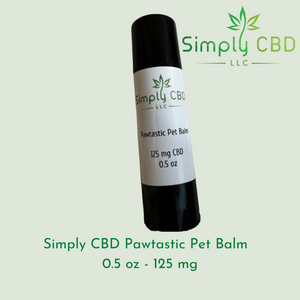 Pawtastic Pet Balm 125 mg CBD 0.5 oz
This powerful CBD balm for dogs and cats has a nutrient-rich, carefully-made formula to nourish and protect your pet's skin.
Its full spectrum CBD can help your pet stay calm when you're away, sleep soundly at night, and function withut irrational reactions to distress.  
This topical CBD hemp balm for dogs can help alleviate sore muscles and joints so your dog can run around as happy and free as a puppy again. 
Directions for use:  
Apply the Pawtastic Pet Balm 125 mg CBD 0.5 oz from this balm stick generously to the affected area:  nose, toes, elbows, anywhere!  Massage into your pet's skin until it is fully absorbed.  
Use one to two times a day.
Ingredients:  
Shea Nut Butter,
Cocoa Butter,
Beeswax,
Coconut Oil,
125 mg CBD