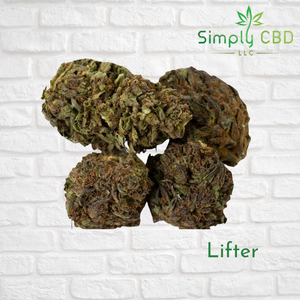 Organic CBD Flower Lifter — Hybrid is an ideal choice for beginner smokers. Organically grown in Vermont, Lifter offers a balanced, hybrid experience perfect for morning or daytime use. It's a winning choice for anyone looking to get the most out of their CBD flower.
Lifter is a cross of Suver Haze and Early Resin Berry (ERB).
Customers state Organic Lifter CBD Flower is tremendous for focus and will provide an uplifting effect.
This potent strain has quickly become an industry standard. Known for its relaxing yet clear-headed and uplifting effects, Lifter is just the thing to start your day. Its terpene-rich aroma will tantalize the senses, while its high levels of CBD may provide much-needed relief from inflammation and fatigue.  It has:
a phenomenal nose of dank cheese with hints of citrus and just a trace of fuel on the back end.

buds with amazing color and structure,

become a top-shelf choice among any smokable CBD or hemp flower.