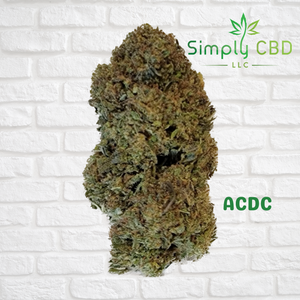 Organic CBD Flower  ACDC (16.5% CBD) - Hybrid (S/D) 
ACDC is a well-balanced hybrid strain, ringing in at 50% Sativa and 50% Indica.  However, it can sometimes lean toward Sativa-dominant. This is a result of being bred from Cannatonic, ACDC's parent strain, which is also an organic 50/50 cannabis strain.  
The ACDC strain has a pleasant aroma, with notes of earthy sweetness followed by hints of juicy citrus. We promise you would have remembered this scent had you smelled it at the ACDC concert back in '75.

While this Organic CBD Flower ACDC - Hybrid strain won't necessarily turn you into a rock god, it will lessen the blow of the reality that your band hasn't necessarily made it out of your garage. There is no need to worry about any psychoactive effects.  
Organic CBD Flower ACDC (16.5% CBD)
ACDC's distinct flavor profile pairs well with its aroma. In addition, Its juicy citrus flavor complements the natural-sweet tang-like smell that wafts in the air and adds a delightful smell to whatever room you're in.  
ACDC CBD Flower is a  fan favorite hybrid.

ACDC is Sativa dominant strain.

ACDC has a woody pine flavor that will remind you of your favorite camping trip.