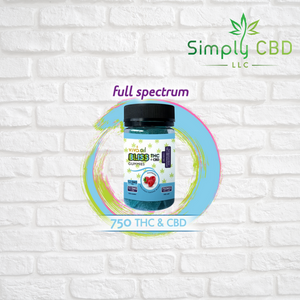 Viva Oil Bliss 1:1 THC + CBD Full Spectrum Gummies 750 mg
Delta-9-THC is now available in our full-spectrum flavorful raspberry gummies. Lightly dusted with organic cane sugar, these tasty raspberry gummies complement the natural flavor of hemp.
Each BLISS gummy is premeasured at 12.5mg THC and 12.5mg CBD, simplifying the process of taking your daily serving. Wide mouth jars with child resistant lids make reaching for you daily gummy an easy task. Simply chew and enjoy!
Through gentle CO2 extraction, we capture the whole plant with a range of cannabinoids and terpenes natural to hemp. These compounds work together in a synergistic manner to enhance results. BLISS gummies are formulated with more than just THC and CBD, to include the minor cannabinoids with a blend of hemp terpenes known to enhance wellness.
Terpenes are the aromatic compounds that lend a distinct taste to hemp. More than providing flavor, they provide a wealth of benefits while simultaneously working as co-activating agents to enhance the actions of THC and CBD. Terpenes and minor cannabinoids are essential ingredients to a true full spectrum gummy.
Viva Oil gummies are thoroughly tested to ensure purity, potency, and effect. Free from microbial contaminants, heavy metals, and residual solvents - quality is our standard! You can cross-check our promise through reviewing the independent third-party lab testing in the picture gallery above.