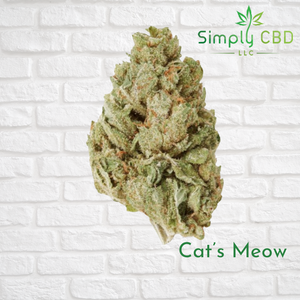 Organic CBD Flower Cat's Meow (14.9% CBD) - Hybrid (S/D) (Sativa Dominant)
Organic Cannabinoid Flower Cat's Meow Hybrid S/D - The exact origin of Cat's Meow CBD Flower is not well known. Rumor has it that the strain is a combination of Sage Kush, Wild Thai, and Cat Piss.
If you are looking for a strong Sativa-dominant hemp strain, then the Cat's Meow CBD is the perfect option.  Cat's Meow is a Sativa dominant hybrid.
Cat's Meow causes the effects in the head first. Followed by pain relief and top choice for inflammation.
The earthy profile of Cat's Meow gives off a light fruity flavor to start then leads to an earthy and skunky flavor.
Cat's Meow is rich in:
myrcene,

beta-caryophyllene and
alpha-humulene terpenes.
From our certified organic farm and packed with CBD, our Cat's Meow Hybrid Sativa Dominant provides a distinctive aroma, full-body relaxation, and energizing mental stimulation. With a sativa-dominant profile, this flower is perfect for enjoying during the day.
They may contribute to health benefits such as stress relief, reducing inflammation, and treating insomnia.  They work in synergy to provide calming effects that can soothe muscles, lessen anxiety, and induce a night of sleep. She's truly a great choice for those seeking a deep sleep or a mellow evening by the fire.