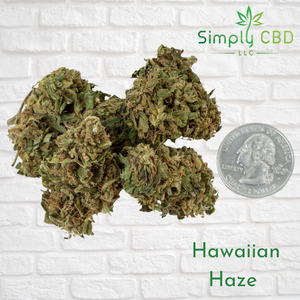 Organic CBD Flower Hawaiian Haze — Sativa offers a unique blend of beneficial cannabinoids and terpenes by delivering excellent synergy between calming and refreshing effects. In addition, Hawaiian Haze is a potent combination of compounds by creating a sense of relaxation and energy that's perfect for any occasion.
Organic CBD Flower Hawaiian Haze (19.41%)
With effects that have been described as akin to a vacation on a tropical island, Hawaiian Haze is a Sativa strain. Furthermore, studies have indicated that Sativa varieties, including Hawaiian Haze, may be helpful for reducing social anxiety.
For a calming, yet uplifting experience, Hawaiian Haze is an excellent option for social and daytime use. It may also help to provide relief from stress, chronic pain, depression, and fatigue, with its calming yet positive effects. 
Hawaiian Haze cured buds release an intense tropical aroma of:
papaya,

pineapple, and

passionfruit. 
Organic CBD Hawaiian Haze boasts a tropical fruit flavor with tropical pine and a hint of pepper. 
Additionally, the buds are dense and a bright green with exquisite sun-orange pistils glittered with tricomes.
Organic CBD Flower Hawaiian Haze contains an abundance of cannabinoids and terpenes.  Hawaiian Haze both acts in synergy, creating soothing and relaxing effects. When smoked or vaped, fans often describe the effects as refreshing combined with a gradual muscle and mind relaxation.