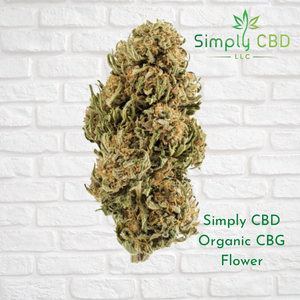 Simply CBD Organic CBG Flower
CBG flower is the buds of a hemp strain that is often referred to as the mother of all cannabinoids.
CBG, aka Cannabigerol, another well-known cannabinoid that's derives from CBGA.  Considered to be a non-psychoactive cannabinoid, so it will not elicit intoxicating effects.  
Research shows that CBG hemp flowers may provide:
Anti-inflammatory and analgesic effects
How Simply CBD Organic CBG Flower Works 
The body's endocannabinoid system processes CBG.  Molecules and receptors in our bodies make up  he Endo cannabinoid system that are responsible for keeping our bodies in an optimal state regardless of what's going on in our external environment.
In our bodies, CBG imitates endocannabinoid, the natural compounds our body makes.