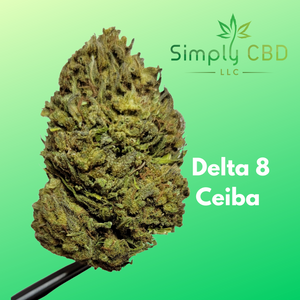 Organically grown in Vermont, Delta 8 Ceiba Flower is an Indica strain that is 60 percent Indica and 40 percent Sativa. Ceiba is the result of crossing the legendary strain, Cannatonic, with a Harlequin / Sour Tsunami phenotype. The resulting strain is high in CBD with extraordinary concentrations of uniquely expressed phytocannabinoids and terpenes, making it a strain that possesses exquisite aroma and flavor while providing powerful relief and relaxation.
The Delta 8 Ceiba Flower strain is characterized by a woodsy pine scent, with a hint of citrus, creating an aroma reminiscent of walking barefoot through a damp pine woodlands. Ceiba has a flavor profile that is earthy and sweet, with notes of pine, lemon, and a slight pepper flavor. Copious amounts of various terpenes create a complex yet delicate aroma and taste that is spicy, sweet, earthy, unique, and unforgettable.
The Ceiba strain's unique and rare combination of terpenes is known for inducing a feeling of optimism and joy while bringing a state of calm. The strain produces an exquisite, natural calming effect that is ideal for anyone battling with overthinking, stress, anxiety, or symptoms of depression.
In addition to its relaxing and calming effects, Ceiba is also a potent anti-inflammatory and an excellent choice for people battling pain and soreness due to inflammation. The terpene profile of Ceiba can improve rest and relaxation, providing relief from many inflammation-related pain conditions.
Ceiba is a fast acting strain that provides powerful cognitive benefits, improves alertness, and produces a calming effect on the mind. This strain is highly recommended for anyone struggling with a lack of focus or concentration due to stress-related issues.
Our Delta 8 Ceiba hybrid strain is sure to lift your mood and provide the focus and energy you need to help you get your day going. To learn more about Delta 8 Ceiba and the powerful effects this strain offers, contact us today.