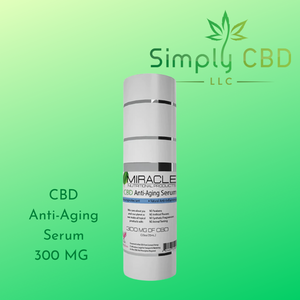 Miracle Nutritional Products CBD Anti-Aging Serum 300 MG is a fan favorite and will be an important tool in your make-up kit. 
The Miracle Nutritional Products Anti Aging CBD Serum 300 MG instantly removes years from your complexion! Now we are not talking Betty White circa 2019 to Betty White circa 1954...but then again results do vary. Seriously though - if you have that kind of transformation you have to email us.
Order yours today and erase the years away! 
CBD Anti-Aging Serum, 300 MG
We make all of our topical beauty products with our very own organic high-quality CBD and contain less than 0.3% THC.  Cruelty and Paraban Free
We strive to deliver high-quality CBD products and provide transparency to you our valued customer. Our products are tested and certified by third-party labs for purity and accuracy of our CBD content
Storage & Handling Conditions: In order to preserve freshness, store in sealed containers away from 
light,
heat and
humidity.
Temperatures not to exceed 85°F and less than 50% relative humidity.