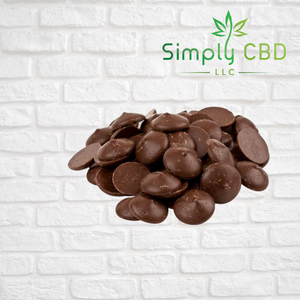 25 mg CBD / 25 mg CBG Chocolate 10 pcs
Looking for the benefits of CBD and CBG in a delicious treat format?  This one is for you!  We have combined 25mg of CBD and 25mg CBG and infused it into an incredibly smooth chocolate.  This sweet treat can increase focus and energy while also maintaining a level of relaxation - which make it great for day time use.
What are the benefits?
CBD + CBG chocolate are a form of Cannabidiol (CBD) and Cannabigerol (CBG) edibles. Being in chocolate form makes them:
Longer lasting release

Gentle on lungs and throat

Easy to dose

They're discreet

They're delicious!
Serving Size: 1 Chocolate Square
Strength per Serving: 25mg Full Spectrum CBD and 25mg CBG
Directions for use: 
Simply eat one of these chocolates and in about an hour you should be feeling the calming effects. No measuring required, a simple, accurate dose every time!
Flavor: Cherry
Statements on this site have not been evaluated by the Food and Drug Administration (FDA). Our products are not intended to diagnose, treat, cure or prevent any disease.