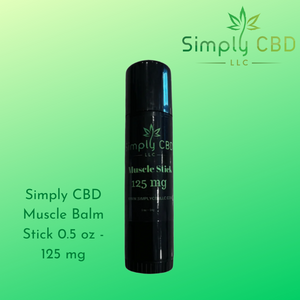 CBD Muscle Balm Stick 125 mg 0.5 oz
Simply CBD Muscle Balm is a CBD topical product designed to help reduce muscle and joint pain. With its combination of natural oils and ingredients, it has the potential to provide effective relief. Perfect for those looking for a natural solution to discomfort.
Convenient and compact to take with you on-the-go. A no-mess formula with dual action to both soothe and moisturize skin.  

All of our CBD oil is sourced in the USA and is full spectrum hemp oil providing more than 80 cannabinoids and other beneficial hemp plant compounds.
If you are looking for a product specifically formulated to provide long lasting relief, our muscle balm is the answer.  Whether you are recovering from a hard workout or a long day at work, our muscle balm will help soothe your aches and pains.  
CBD Muscle Balm Stick 125 mg 0.5 oz Directions:
Apply to affected area as needed
Avoid contact with eyes
Storage
Store in a cool dry place away from direct sunlight
This CBD muscle balm stick with 125mg fits nicely in a purse for on the go use.